Ready For Your New Throne?
Thank you for participating in the Toilet Replacement Program. Enclosed is your certified voucher that you will need to pick up your FREE ProFlo® high-efficiency toilet(s). You can only use this voucher at the locations listed below. A map is enclosed with the locations listed.
You will have a choice of 3 different types of toilet bowls: 
Round Bowl
Elongated Bowl
American Disabilities Act (ADA) Compliant Bowl.
If you are changing an existing round bowl to either an elongated or ADA bowl, please make sure that you have sufficient space for the new larger bowl.
Where Can You Pick Up Your New Toilet?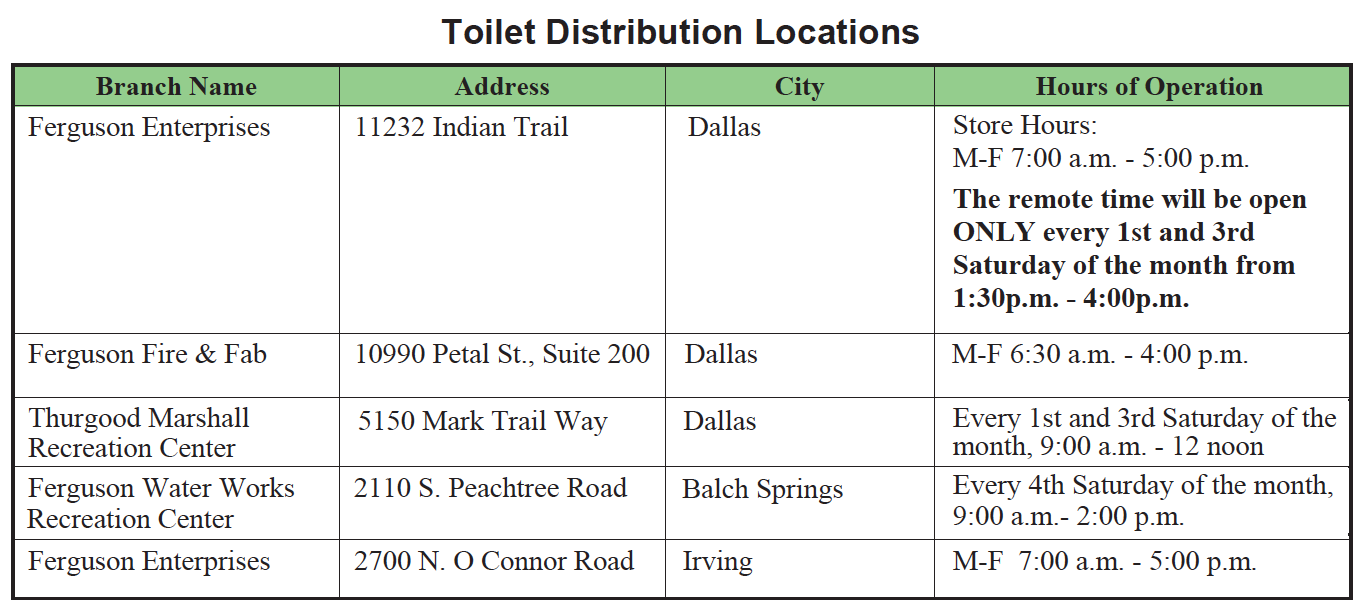 If you prefer a different model of toilet than the ones offered, you may purchase your toilet at any store of your choice and apply for a rebate instead. You will need to return the unused voucher if you wish to apply for a rebate. The rebate in the amount of $90 will be issued in the form of a credit towards your water bill, no cash rebate is offered. The rebate option is not available to multi-family complex or master metered condominium customers.
For questions about the rebate program, please call City of Dallas Water Utilities,

New Throne for Your Home Program at 214-671-9420

.
For questions about the toilet being offered, locations and scheduled hours please call 

Ferguson Enterprises at 972-620-1661.